Blank Note Cards And More
      
. . .   From My "Jazz Art" Store
The blank note cards and prints you see below are all reproductions of musician portraits I have drawn.  Since my youth, I have been both a professional musician and artist.  This lifelong involvement in both disciplines led naturally to an extensive series of musician portraits.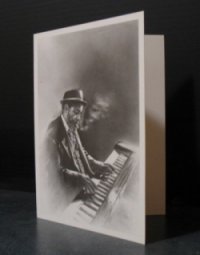 In my travels to major music festivals throughout Canada and the United States, the popularity of the jazz cards and jazz prints proved to have a wide appeal . . . from art lovers to music lovers. 


About The Note Cards
Each image you see below is the front of a blank note card, printed on quality paper and measuring slightly more than 4 x 6 inches. All of the images are small reproductions of my original large charcoal drawings. Of course envelopes are included.
The back of each card identifies the musician on the cover. Each of the musicians portrayed was, or still is, an important figure in the history of jazz and blues music.
Each image is a completely original artistic composition.
---
The images in the five-card set are shown below. You may click on each image for an enlarged preview, then click on "Close" at the bottom of the enlarged image to return here. Actual cards do not include the "copyright Doug Boomhower" watermark. 
---
Five-card set - $25
---





---
Clicking on either button will take you to a new page where you can calculate shipping, update your cart or return here to continue shopping.  
When you are ready to checkout, simply enter your  country and zip/postal code to calculate shipping.  While still on the page, click on the PayPal logo and simply select how you would like to pay.  
PayPal is the safer, easier way to pay.  You can use your credit card online without exposing your card number to merchants.
---
Jazz Art Reproductions -  $95 each
---
Choose from seven reproductions of my original jazz art drawings. These reproductions (known as lithographs in the printing business), are printed on high quality Quintessence paper. This is a heavy paper so the reproductions are durable.
Each 16" x 20" image is surrounded by a white border, so the total size measures 17 x 22 inches. People often frame them, but you can also display them as is, since the white border can serve as a simple frame.
The reproductions are safely shipped in a strong mailing tube. As with the blank note cards above, the actual prints do not include the "copyright Doug Boomhower" watermark.
---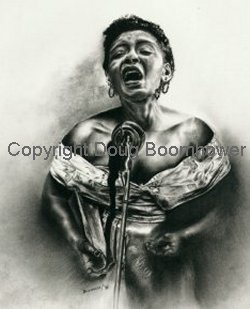 Billie Holiday:
American jazz singer.
1915 - 1959 
Her uniquely original singing style continues to influence jazz and pop singers today.


---
Duke Ellington: American pianist/composer.
1899 - 1974.
Considered to be one of the best composers of the 20th Century.


---
Count Basie: American pianist, arranger and big-band leader.
1904 - 1984.

Widely regarded as one of the most important jazz bandleaders of his time.


---
Alberta Hunter: American blues and jazz singer. 1895 - 1984.

Critically acclaimed jazz-blues recording artist. She performed into her late eighties.


---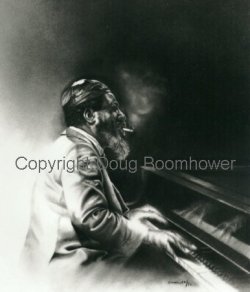 Thelonious Monk: American jazz pianist/composer.
1917 - 1982
Considered to be an integral musician in the history of jazz. His compositions remain an important part of today's jazz repertoire.


---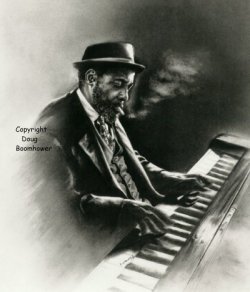 ---
Eddie "Cleanhead" Vinson. 1917 - 1988

A popular American jazz-blues saxophone player and singer.


---
 Watch for upcoming blank note cards with different jazz images on the front.
If you have any questions or comments, please contact me.  Thanks for visiting!
---
To search my site, enter your search term in the box below, and click on the Search button. (Google ads may appear at the top of the results page ... your search results will be just below.)
---
Return from Blank Note Cards and More
to Learn to Draw Expressively Home Page
Grab those pencils and jump aboard the Learn-to-Draw Express!