Actor
by Dr.Prajakt Thakoor
(Mumbai, MH,India)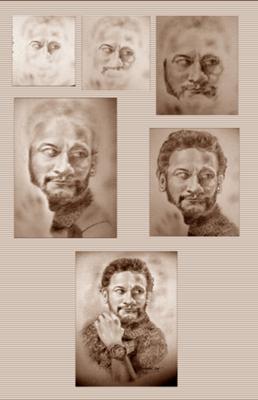 Actor - Draw Lifelike Pencil Portraits
Done with 6B pencil, Sepia tone was added digitally.

Doug's Comments: A nice drawing ... natural and alive. I found the progressive steps most interesting. The steps particularly reveal your "loose" drawing approach. And of course, a "loose" approach is what you are looking for, rather than a rigid drawing approach. That free style maintains a spontaneity and a lifelike quality in your work.

Not to be taken as a criticism, but I prefer the five preliminary steps to the final drawing. But don't misunderstand me ... the final drawing is also very well done.