Drawing Materials

  . . . the necessities for drawing 
              and sketching
Below is a rundown of the drawing materials and tools I use to create my artwork. Art materials often come down to an individual choice so experiment with different art supplies to see which paper and pencils you like best. Shop wherever you like ... you can experiment at your local art store, or order on-line. 
I personally have enjoyed excellent service from Dick Blick Art Materials. They have a wonderful reputation and have been a family-owned business since

Mr. and Mrs. Dick Blick started selling lettering pens from their kitchen (warehouse) in 1911 via the local post office.
Not only that, I am an affiliate. That's right ... not only do I get to show you images of the art supplies from the Dick Blick website, but if you choose to purchase supplies by following my links, I earn a commission. So feel free to buy all the drawing materials you wish!
I think you'll love the great service.
Naturally, the best time to stock up on sketch pads, pencils, brushes or other drawing materials is when they're on sale. 
---
Click the Blick logo below to see what is on sale this week.
---
One last thing before reviewing my art supplies list.
After reading about the drawing tools I use, its a good idea to search this site to find the pages where I show you how to use them. Simply enter search terms like "eraser", "kneaded eraser", "3B", "2B pencil", and so on.
---
To search my site, enter your search term in the box below, and click on the Search button.
(Google ads may appear at the top of the results page ... your search results will follow.)
---
List of Drawing Materials
Paper for Charcoal Drawings
Many of my charcoal compositions were done on Pentalic Meridian drawing paper, which has been discontinued. I now use the
Pentalic Nature Sketch Book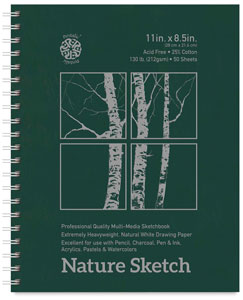 I have also used cold press
Arches Watercolor Paper
(These may be compensated affiliate links.)
Look for a strong paper with some tooth on it.  ("Tooth" just means the roughness of the paper...the heavier the tooth, the rougher the paper.)  You need a paper strong enough to withstand charcoal applications.  
When drawing with charcoal, you want a paper with at least a medium tooth on it for the charcoal to adhere to.  If you like to work in fine detail, a very heavy tooth will interfere.
Paper for Pencil Drawings: 
For my pencil drawings I use various papers. Strathmore, Canson, and Meridian are some of the brands I use. The particular Strathmore is called Strathmore 400 Series Recycled Paper Pads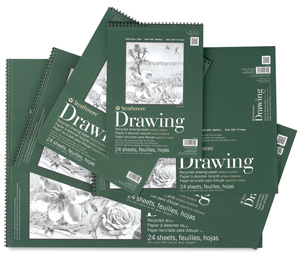 The Canson paper I have used is the Canson Classic Cream Drawing Pad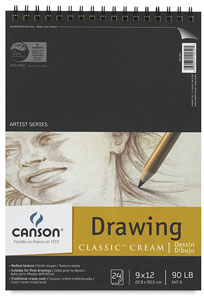 When doing pencil drawings, you don't need a particularly rough surface, but always use a paper weight of at least 70 lb. I prefer heavier paper (80 - 140 lb).
---
Charcoal, Charcoal Pencils and Graphite Pencils:
Until recently, I had exclusively used
Ritmo Charcoal Drawing Pencils
Because they would glide smoothly across the paper, they allowed me greater control. Other charcoal pencils tend to "skip" across the paper and even scratch the surface. Ritmo allowed me to get a nice, even line.


(These may be compensated affiliate links.)
Within the last few years, I had heard that Ritmo changed its formula, and that they have lost their quality. I panicked when I heard this, so I ordered a large bulk of Ritmo pencils. I don't know if the pencils I ordered were before or after the formula change, but they work just fine. Perhaps the "formula change" was nothing more than a rumor. I'll continue to exclusively use Ritmo charcoal pencils and I'll continue to highly recommend them. The good news is they are now available at BLICK.
I have tried other good quality charcoal drawing materials on the market, and have found that the
Derwent Charcoal Pencils
work well, as do
General's Primo Euro Charcoal Pencils.
---
Conté Compressed Charcoal - These are compressed charcoal sticks. They come in a box of twelve. I use the soft ones for covering large areas like backgrounds.
I recently received samples of Nitram Academie Fusains Charcoal. I look forward to trying it out on my next charcoal drawing.
(These may be compensated affiliate links.)

---

---

General's Powdered Charcoal
(These may be compensated affiliate links.)

This is pure powdered charcoal dust that comes in a jar. Be careful with this . . . it's very messy, but effective when used properly. I use it for smooth, subtle shading effects.

---

Anytime I use a graphite pencil, I use

 (grades B to 5B).











I also like .
(These may be compensated affiliate links.)

There is a wide variety of good graphite pencils on the market.  I often work only with pencil.




---

Soft Pastels

There are times, as in my drawings of dogs or cats, where I use soft pastel.  If you are using a lot of color in your drawings, you might invest in a larger pastel kit that gives you a wider range of colors.  However, if you only use color on occasion, a smaller set will do.

Schmincke Soft Pastel Sets


(These may be compensated affiliate links.)

---

---

Blending the Charcoal 

For blending I use watercolour brushes.

Here is one place where you can get away with buying cheap art supplies. You can buy more expensive brushes if you wish, but for the purposes of charcoal blending, it isn't necessary.

I apply the charcoal to the paper with a 3B charcoal pencil and then use brushes to move the charcoal around. In this case, one is essentially painting in black and white.




---

Tortillons (paper blending stumps),

---

tissues, and my finger to blend charcoal. (Sweaty fingers will leave marks on your paper that cannot be erased. Fortunately I don't have that problem.)

(These may be compensated affiliate links.)



Sharpening Charcoal Pencils Without Breaking The Lead

How to sharpen charcoal pencils was a problem for years, until I discovered the following pencil sharpeners. 


I use one similar to the X-Acto 1800 Electric Pencil Sharpener

---

I also use a manual sharpener similar to the

Bostitch Antimicrobial Manual Pencil Sharpener

---

---




I also use fine sandpaper while I work, to keep a fine point on my charcoal or graphite pencil. If I need a really sharp point for very detailed work, I use a sheet of ultra fine 600B sandpaper. 


Sandpaper Block

Prismacolor Kneaded Rubber Erasers – these erasers are an invaluable aid to me. They lift charcoal off the paper, so I use them to create a variety of lighting effects.

---


(These may be compensated affiliate links.)

Again, for a hands-on explanation of how the drawing materials are used in different situations, go to the search tool near the top of this page or click on the SiteSearch navigation button, and simply type in "kneaded erasers". This will provide you with a list of pages on my site where I discuss kneaded erasers. Search any drawing materials you wish. 



Fixative

Now that you've completed your drawing with pencil, charcoal, and perhaps some pastel, you may want to protect your finished piece with a fixative.  I have used various fixatives, but my friend, Shirley, (who framed all of my drawings at our local art store for many years), recommended only one fixative, so that's the one I now use.  

It's called Lascaux Fine Art Fixative

---

---

I use a limited number of drafting aids.

Staedtler Mars Flexible Curves

---


(These may be compensated affiliate links.)

This is a highly versatile drafting aid made of lead-core construction (in simple terms it's like a flexible piece of rubber which can be bent, and holds it's shape in order to draw curves).  Since such a large body of my work depicts jazz musicians, curves are often necessary to accurately draw the instruments. 

---

Alvin French Curves Set

This gives me a broader range of curves which suit different drawing situations.

---

For a variety of very small shapes, I use Westcott C-Thru Circle Templates
(These may be compensated affiliate links.)

---

These last two items (curves and templates) are used to solve a technical difficulty, not to solve an artistic problem.

---

Remember, if you want to learn to draw, you only need a pencil and paper to start with ... and only newsprint like Blick All-Purpose Newsprint if you are starting with quick gesture drawings.

(These may be compensated affiliate links.)

---




This drawing materials list is to give you an idea of the tools I use ... some often, and others only occasionally, depending on the art project at hand. Add to your collection as you see fit.

To start drawing from the beginning, with just with a pencil and newsprint, search the contour and gesture pages. If you are looking for art supplies, click the link below to see what Blick Art Materials has on sale this week.

---

---