Billie Holiday
by Wendy
(United States)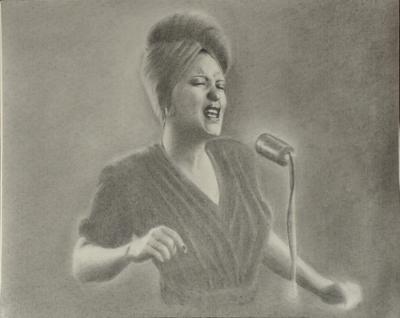 Billie Holiday
I wanted to submit my drawing of Jazz singer Billie Holiday. It seemed appropriate and I used learn-to-draw-expressively as a resource while doing this charcoal drawing. I've found Doug's site to be a wonderful resource while learning. I especially like the videos where I get to watch him work. I find his artwork "expressive" and emotive. I feel as if I'm in the smokey club and I can hear the Jazz playing in his drawings.

I was drawn to Billie Holiday because I love jazz and music overall. I loved this image of her caught in mid-song. I wanted to capture that expressively. I've used charcoal for the first time. It was done mostly in Vine charcoal. I used charcoal pencil to bring out some of her facial features and I used a chunky charcoal stick and charcoal dust on the background.

I may go back and work some more on her, taking the suggestions that Doug has given me to improve her, but I was anxious to share her and to thank Doug for sharing his knowledge here on learn-to-draw-expressively.com.

Doug's comments: As a gesture drawing this is well done, and it conveys a feeling of realism. The lifelike quality is enhanced by attention to lighting.

Thanks for submitting your drawing.